ENTRIES NOW OPEN for SCASA's 2019 Eastern Cape Region Coffee Competitions taking place 4-6 October at Father's House, Port Elizabeth (30 Paterson Road).
Download the Coffee Competition Entry Form 
HERE
Judges who would like to apply can do so 
HERE
Judges training will be Friday 4 October 2019, Venue TBC.

---
ENTRIES NOW OPEN for SCASA's 2019 Gauteng Region Coffee Competitions taking place 26-28 July at Coffee & Chocolate, Ticketpro Dome, Johannesburg.

Download the Coffee Competition Entry Form HERE

Judges who would like to apply can do so HERE
Judges training will be Thursday 25 July 2019, Venue TBC.

Learn more about at 2019's Coffee & Chocolate HERE

---
ENTRIES NOW OPEN for SCASA's 2019 Central Region Coffee Competitions taking place 31 May - 1 June at Coffee Extravaganza, Windmill Casino, Bloemfontein.
Download the Coffee Competition Entry Form 
HERE
Judges who would like to apply can do so 
HERE
Learn more about at 2019's Coffee Extravaganza 
HERE


---
Cup Tasters Competition
Saturday 27 October 2018
Venue: Bloemfontein Coffee, The Towers Shopping Centre, Langenhoven Park
Latte Art Competition
Saturday 27 October 2018
Venue: Royal Roastery, 22 Dirk Opperman St., Langenhoven Park
---
Please download Competitor Entry Form here.
Please download Judges Registration Form here.
Please email to info@scasa.co.za when you have completed the form. Thank you!
---
Training to become a judge is a fantastic educational experience! And just look at the group of people you'll be mixing with, they look cool right? Right! Meet with some amazing coffee professionals and make a difference in your coffee community!
To plan your judging schedule you can see the list of competitions coming up here.
---
SCASA owns the license for SA to participate in the WCE (World Coffee Events) Barista, Latte Art and Cup Tasters competitions, by running the Regionals and National competition in SA to the same standard and through these competitions, send South African National Champions to the "Worlds" in all 3 disciplines (and Judges and coaches and Team Members) The knowledge acquired at these global events filters back to the coffee community on the ground here, and then through to all our friends, staff, members and consumers and also puts SA on the Map (Don McLagan 5th in Cup tasters, Craig and Ishan, 15th and 18th at Barista Comp respectively.)
...
If you would like to enter the SCASA Coffee Competitons please find the 2017 Entry Form here.
---
---
Here is a list of our 2016 coffee competitions, the dates, and the venues at which they will take place. Download your entry form HERE.
Gauteng Regionals
3 - 5 May
Food and Hospitality Africa Show
Gallagher Convention Centre, JHB
Eastern Cape Regionals
28 - 31 July
Homemakers Expo
The Boardwalk Exhibition Centre, PE
Western Cape Regionals
15 - 18 September
Cape Homemakers Expo
CTICC
KZN Regionals
28 - 30 October
Good Food & Wine Show
Durban Exhibition Centre
Nationals
TBC
---
Yes the competition and expo dates are out and this is what 2015 is looking like.
26 Feb - 1 March : Gauteng Regionals at Homemakers JHB, Coca-Cola Dome
15 -18 March :  SCASA demonstrations and Trade workshops at Hostex, Sandton ICC
1 - 5 May : KZN Regionals at the CoffeeChoc Expo KZN, Suncoast Casino, Durban
16 - 19 July : SCASA demonstrations & Home Barista Championship at the Coffee &Chocolate Expo JHB, Montecasino
23 - 26th July : Eastern Cape Regionals at Homemakers PE, Boardwalk Casino, Port Elizabeth
27 - 30th August : Western Cape Regionals at Homemakers CT, CTICC, Cape Town
Date TBC (Oct/Nov) : National Finals in KZN, Venue TBC
Updated entry forms COMING SOON. 
---
The Manual Brewers competition is a simplified version of the World Coffee Events "World Brewers Cup" competition, and is aimed at showcasing the skill and insight of brewing coffee using "manual methods" ie, any brewing device that is free of mechanical action and/or that is powered by electricity.  The hope is that by attracting more participants to Manual Brewing and running a successful series of Manual Brewers competitions in SA in 2014, SCASA may formalize the Competition in 2015, with a view to formally affiliating with the WCE's "World Brewers Cup" to sending over a South African Champion to the 2016 World Championship Event.

The format of the Manual Brewers competition this year in South Africa is:

COMPETITION SUMMARY:

A. The competition is divided into two rounds: Round One, and the Finals Round.

B. Round One consists a component called the "Compulsory Service"

C. The Finals Round consists of "Compulsory Service" between the finalists.

D. During each competition Service, competitors will be evaluated by three (3) Judges. Additionally a Head Judge will be present, but will not be tasting the cups served.

E. During each Service, competitors will prepare and serve three (3) individual and separate beverages, one for each Judge.

F. Competitors may utilize any set of brewing devices of their choosing, so long as they qualify according to the definitions in these Rules.

G. For each Round, there will be 3 (three) competitors per Service and each Competitor will have ten (10) minutes of Practice Time to in the competition area in preparation  for and prior to the Service. Thereafter competitors will have 7 (seven ) minutes of Competition Time to prepare and serve their Beverages, without any presentation or demonstration. Competitors will be limited to utilizing only the whole bean coffee provided by the Manual Brewers competition.  

H. All three beverages within each competition service must be prepared using the same whole bean coffee.

I. Competitors may produce as many beverages as they like during their competition time. Only the beverages served to the judges will be evaluated.

J. Coffees may not have any additives, flavorings, colorings, perfumes, aromatic substances, liquids, powders, etc. of any kind added at any point between the time the coffee is presented to the competitors to when it is extracted into beverage.

K. The provided Compulsory Service coffee will be a medium to medium-light roasted fully-washed specialty-grade coffee
THE BEVERAGE
A. The beverage must be an extraction from particles of whole bean coffee, using water as the solvent. No other additives of any kind will be allowed, aside from those contained within the relevant definitions of whole bean coffee, brew water, brewing devices, and service vessels. Additional water may be added ("bypass") to the beverage before serving to alter concentration.
B. The beverage should have a total dissolved solids content of less than or equal to 2.00% or 20,000 ppm. This is to limit the beverage to the realm of what is commonly referred to as "filter coffee," distinct from espresso or other categories of coffee-extracted beverage.

C. Competitors will prepare and serve three individual coffee beverages, one to each of the three judges.

D. Each of the three beverages should be between 150 and 350 mL. If a beverage served is found to be less than 120mL or more than 375 mL, that particular beverage (cup) will be disqualified and receive no score.

E. It is not necessary to serve the entire quantity of beverage produced during the coffee preparation.


BREW WATER

A. Competitors may utilize the water provided by the competition, or utilize their own brew water.

B. Provided water will be available both at room temperature and heated to between 96.0 and 98.5°C.

C. If a competitor chooses to use their own water, they must also provide their own device to heat the water to the desired temperature. Electrical power provided to power such devices will be limited to that provided by the competition.


GRINDERS

A. A grinder is a device that grinds whole bean coffee into smaller physical particles without changing the chemistry of the coffee, aside from that directly related to the grinding of the coffee (friction, heat, etc.), and does not add any additives to the coffee.

B. Within the competition area and during competitors' competition time Competitors may use any grinder including the provided sponsored grinder. Competitors may use the grinder provided by the competition or a grinder that they have provided for themselves outside of the competition area or in advance of the competition time.


BREWING DEVICES

A. A brewing device is any item that a competitor uses during, and is involved in, the beverage extraction.

B. Brewing devices must be "manual" in nature, and may not include or involve mechanical action powered by supplemental forces (i.e., electricity) other than those exceptions below:

i. Mechanical action powered by the competitor's manual action (i.e. hand and/or arm action), by gravity, or created by the act of coffee brewing itself (i.e. pressure in vacuum brewers, movement in balance brewers) is permitted.

ii. Heat sources are allowed (electrical, magnetic, or liquid fuel), provided they are used to heat water or the coffee beverage and not to power any additional mechanism.

iii. A machine or mechanism that supplies the competitor with brew water is allowed, though if it involves any automated and/or portioning mechanism (i.e., a machine programmed to dispense a specific quantity of water), it may not be used directly on the coffee. For example, an automatic water delivery machine could dispense into a pouring vessel, but not directly to the coffee.

C. Competitors must utilize their own brewing devices. While sponsors may make certain brewing devices available for competitor use, competitors are ultimately responsible for supplying their own brewing devices (including filtration media if applicable). Competitors using those devices should thoroughly test and inspect them.

D. Competitors may utilize as many or as few brewing devices as they wish in order to produce the required three preparations within the allotted time.

E. Brewing devices may not add any additive substances to the beverage whatsoever.


ADDITIONAL ELECTRICAL EQUIPMENT

Competitors may bring up to two pieces of additional electrical equipment to be used during their coffee preparation and/or presentation. Competitors must notify the Event Manager prior to arriving at the Event of any additional electrical equipment they are bringing (i.e. hot plate, water kettle, etc.). Total power requirements for the additional electrical equipment must be accommodated by a single single-phase circuit which will be shared with the grinder(s).

It is the competitors' responsibility to ensure the provided electrical service is sufficient to power the competitor's additional equipment. No "technical appeals" will be accepted due to excessive electrical needs for a competitor's additional equipment.

There is no restriction on additional equipment that does not require use of the provided grounded electrical service, provided such equipment is otherwise permitted by these Rules.


PROVIDED FACILITIES & EQUIPMENT

The competition area will be equipped with the following:

• Equipment Table (For hot water machine and grinder)

• Work Table(s) (for competitor use)

• Service Table (Judges' table)

• Hot water machine / kettles

• Official Coffee grinder

• Standardized Service vessels

• Cleaning brushes (for grinder and counter)

• Trash can and/or compost bin

• Bucket for discarded liquid


COMPETITOR EQUIPMENT & SUPPLIES

Competitors are required to bring all supplies necessary for their presentation.

Competitors MUST bring the following:

• Brewing devices

• Coffee filtration media


The following are optional:

• Spare brewing devices

• Additional Electrical Equipment (Maximum two items)

• Brewing device stands

• Brewing device accessories

• Scales (for mass measurement)

• Thermometers (for temperature measurement)

• Timers (for time measurement)

• Additional coffee filtration medium

• Service vessels for Open Service (at least three plus spares)

• Cleaning cloths/rags
For more information regarding the Western Cape Regionals Competition click here.
---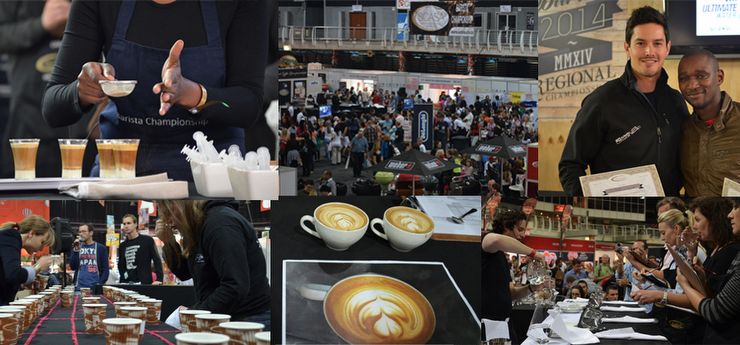 South Africa's leading coffee experts will once again showcase their talents at the Regional Coffee competitions in Gauteng, KZN,  Western Cape and Eastern Cape in 2014. From these events, Regional Champions will be crowned and 6 finalist from each Province will qualify to compete for the SA Titles in their respective disciplines.
If you would like to take part in any of the competitions, click here to download the registration form and follow the instructions!
Gauteng
The first event of the year is the Gauteng Regionals to be held at the Homemakers Expo at the Coca-Cola Dome from 27th Feb – 2nd March 2014.
Gauteng's best coffee professionals will compete at the Homemakers Expo for the Regional title's in the Barista competition, the Latte Art competition, the Cup Tasters competition and the Aeropress competition.
The finalists in each of these competitive coffee categories will qualify for the National Finals later in the year.  From these competitions a South African Champion in each category will be chosen to represent South Africa at the World Barista Championships in 2015.
To compete in Gauteng, click here to download the registration form.
Western Cape
The Competition then moves to The Mother City where the Western Cape Regionals will be held at Hostex 2014  from 21st – 23rd May.
Cape Town has a vast depth of baristas, coffee shops and roasteries and it's citizen's have a vibrant café culture which always sees a high level of competition.
To compete in the Western Cape, click here to download the registration form.
Eastern Cape
One of the most exciting competitions of the year comes from the Eastern Cape region which this year will be Hosted at The Homemakers Expo in PE from 24th – 27th July and has a fast growing pool of talent and usually produces a contender for one of the National Titles, like local champion Donovan Mclagin, who went on to place 5th in the World Cup Tasters in 2013.
To compete in the Eastern Cape, click here to download the registration form.
KZN and Nationals
KZN Regionals and Nationals dates and venues will be announced by SCASA later in the year.
Click here to download the registration form if you would like to register before the dates are confirmed.
Pictures courtesy of the Coffee Mag
---