Confirmed Dates for Coffee Competitions 2014
January 21 2014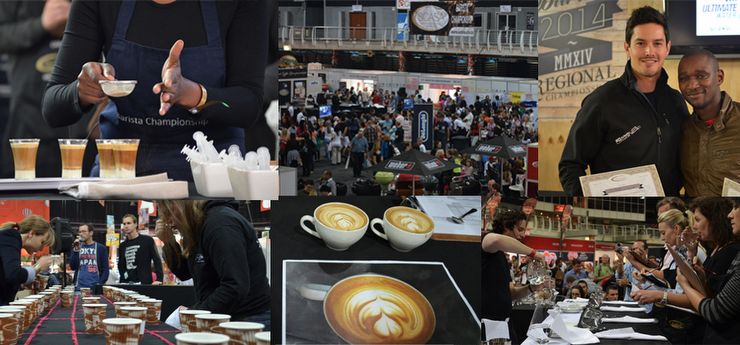 South Africa's leading coffee experts will once again showcase their talents at the Regional Coffee competitions in Gauteng, KZN,  Western Cape and Eastern Cape in 2014. From these events, Regional Champions will be crowned and 6 finalist from each Province will qualify to compete for the SA Titles in their respective disciplines.
If you would like to take part in any of the competitions, click here to download the registration form and follow the instructions!
Gauteng
The first event of the year is the Gauteng Regionals to be held at the Homemakers Expo at the Coca-Cola Dome from 27th Feb – 2nd March 2014.
Gauteng's best coffee professionals will compete at the Homemakers Expo for the Regional title's in the Barista competition, the Latte Art competition, the Cup Tasters competition and the Aeropress competition.
The finalists in each of these competitive coffee categories will qualify for the National Finals later in the year.  From these competitions a South African Champion in each category will be chosen to represent South Africa at the World Barista Championships in 2015.
To compete in Gauteng, click here to download the registration form.
Western Cape
The Competition then moves to The Mother City where the Western Cape Regionals will be held at Hostex 2014  from 21st – 23rd May.
Cape Town has a vast depth of baristas, coffee shops and roasteries and it's citizen's have a vibrant café culture which always sees a high level of competition.
To compete in the Western Cape, click here to download the registration form.
Eastern Cape
One of the most exciting competitions of the year comes from the Eastern Cape region which this year will be Hosted at The Homemakers Expo in PE from 24th – 27th July and has a fast growing pool of talent and usually produces a contender for one of the National Titles, like local champion Donovan Mclagin, who went on to place 5th in the World Cup Tasters in 2013.
To compete in the Eastern Cape, click here to download the registration form.
KZN and Nationals
KZN Regionals and Nationals dates and venues will be announced by SCASA later in the year.
Click here to download the registration form if you would like to register before the dates are confirmed.
Pictures courtesy of the Coffee Mag